Arcand-Bossé, Thierry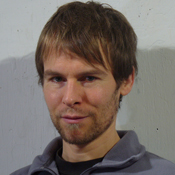 Thierry Arcand Bossé was born in 1976 in Quebec City where he lives and works. After completing a diploma in visual arts at the Cégep de Sherbrooke, he completed a degree in Visual Arts at Université Laval (2003).
Winner of a research and creation grant from the Conseil des arts et des lettres du Québec in 2006, he had solo exhibitions at Galerie Rouje and Galerie Trompe-l'oeil in Quebec City and at the Maison de la culture in Notre-Dame-de-Grâce (Montreal). He has also participated in numerous group exhibitions at Galerie Lacerte Art Contemporain, the Université Laval's art gallery, and recently, at the Liverpool Biennal, England. He is represented by Galerie Lacerte Art Contemporain (Quebec City) and Galerie Orange (Montreal).
SOLO EXHIBITIONS
2009 Marchander le vide, Centre d'exposition Léo-Ayotte, Shawinigan, Québec.
2008 S'approprier une part de vide, Galerie Trompe-L'Oeil, Québec.
2005 Sampling équivoque, Galerie Rouje, Québec.
2005 Copyright. Maison de la culture Notre-Dame-de-Grâce, Montréal.
2003 Galerie Rouje, Québec.
GROUP EXHIBITIONS
2010 Miniatures, Galerie Orange, 2010
2008 Vue sur Québec. Biennale de Liverpool, Angleterre
2008 L'impression des regards (second volet du projet les Regards fous),
Musée de la civilisation, Québec.
Réalisation d'estampes à partir de la matrice d'un trou d'homme.
2008 Collectif : Figurefocus, Galerie Orange, Montréal.
2008 Exposition collective, Galerie Lacerte, Québec.
2007 Repères, Expo-vente Loto-Québec, Québec.
2007 Duo Thierry Arcand-Bossé et Sophie Privée, peintu récentes.
Galerie Lacerte Art contemporain, Québec.
2006 Vous êtes unique parmi les autres, Galerie des arts-visuels de
l'Université Laval, Québec.
2004 Les oulisses de la peinture, exposition présentée au Théâtre du Périscope,
organisée en collaboration avec l'Oeil de Poisson, Québec.
2003 Points de chute, Galerie Madeleine Lacerte, Québec.

Back to artists