Wonnacott, Victoria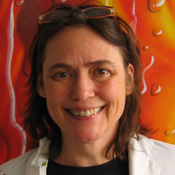 Born in Belleville Ontario, Victoria Wonnacott has lived in Montreal since 1979. She has a B.A.in Fine Arts from the University of Waterloo and has studied sculpture at Concordia University. Victoria has taken part in many individual and collective painting and sculpture exhibitions in Quebec, Ontario and the U.S.A.
A recipient of two scholarships from the Ministere des Affaires culturelles du Quebec, her works are found in private and public collections such as Colart Collection, The Canada Council Art Bank, Loto-Quebec and the city of Montréal's Foundation de la Chapelle historique du Bon-Pasteur.
Wonnacott is best known for her water themed paintings of swimmers and bathers in the pond, pool and shower.
"Abstraction and realism are executed with effortlessness, there is a reconciliation of technique and content, and the story grows. We quietly possess and identify with these works of art". GPW
SELECTED SOLO & DUO EXHIBITIONS
2011 CUBE Gallery, Ottawa, Ontario. November 1 – 27th
2011 Putman & Wonnacott, John M. Parrott Gallery, Belleville, Ontario. June 2nd ~ July 14th
2010 Waterworks, Club Sportif MAA, Montréal, Québec.
2007 Coming to the surface, CUBE,Gallery, Ottawa.
2006 Recent Works, Chez Lucien, Byward Market, Ottawa.
2005 The Vases & recent works at Chez Lucien, Byward Market, Ottawa.
2005 Waterworks, Galerie V, NDG, Montréal, Québec.
2004 The Raft, Galerie Arts Sutton, Sutton, Québec.
2003 The Vases & recent work s at 'The Claremont', Montréal, Québec.
2002 The Raft, Casa Obscura, Montréal, Québec.
2002 Waterworks, Opus 2 Restaurant, Hotel Omni Mont-Royal, Montréal.
2002 Run the words through my water, Galerie Luz, Montréal. Québec.
SELECTED GROUP EXHIBITIONS
2010 Great BIG smalls V I. CUBE Gallery, Ottawa, Ontario. (Dec.1st ~ 31st)
2010 TIAF. Toronto International Art Fair. Represented by CUBE Gallery, Ottawa, Ontario.
2010 Allô Montréal, CUBE Gallery, Ottawa, Ontario.
2010 Words & Image. 'To have and to hold'; weavings by Susan Gordon.
Gibsons Public Art Gallery, Gibsons, British Columbia.
2009 Filling Space, Galerie de la Ville, Dollard des Ormeaux.
2009 Water, Cube Gallery, Ottawa, Ontario
2009 Exposition collectif, Griffintown, Montréal.
2008 Now representing Galerie d'Avignon, Montréal, Québec.
2008 'art chez soi:Galerie de la Ville chez Mobila: Ponte Claire, Québec.
2007 Mind games, Galerie de la Ville, Dollard des Ormeaux, Québec.
2007 The Narrative in Art, Galerie d'art St-Ambroise, Montréal.
2006 Galerie V, NDG artists spring show, Montréal, Québec.
1993 -2006 Les Femmeuses Pratt & Whitney, Longueuil, Québec.
2006 Kindred, CUBE gallery, Ottawa.
2005 Univerisity of Waterloo Art Gallery Alumni Juried Exhibition, Waterloo, Ontario.
2004 Lantern of the East, LOTEIAF, 13th annual international art festival, Pyonteck City, Korea.
2002 Old Tales, New Takes, Galerie de la Ville, Dollard des Ormeaux, Québec.
2000 Missives to the 21 st, Galerie de la Ville, Dollard des Ormeaux. Québec

Back to artists