Alpha, Hannah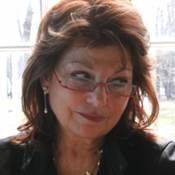 Over the past twenty years Montreal-based artist Hannah Alpha has been working to refine and simplify her expression of the human body in movement.
Her work reached an important milestone twelve years ago when she started practicing the centuries old art of Tai Chi. Because of its repeated movements, Tai Chi develops an intensification of consciousness of the unity between being and awareness. That feeling permeates throughout her art.
Hannah's work is in private and public collections around the world including the Canada Council Art Bank (Ottawa), the Canadian Museum of Civilization (Hull), Loto-Québec (Montreal), Sony Music (Toronto), the Royal Bank (Montreal), Chateau Champlain (Montreal), Sanofi Aventis (Laval), Colart Collection (Montreal) and the Hyatt Regency Hotel (Jeddah & Riyadh).
Hannah has taught drawing and painting at the Saidye Bronfman Center for the Arts in Montreal for fifteen years. She is an active member of the Regroupement des artistes en arts visuels du Québec (RAAV) and of Atelier Circulaire.

Back to artists