Kastner, Andrea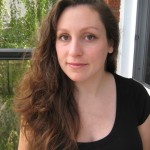 Andrea Kastner is a painter living in Kamloops, British Columbia, and is a current finalist for the RBC Canadian Painting Competition. Born in 1984 and raised in Montreal, she completed a BFA at Mount Allison University and an MFA at the University of Alberta.  Her work has been shown in solo and group exhibitions across Canada, including the Esker Foundation's inaugural show, The New Alberta Contemporaries, in Calgary, AB.  Her paintings of basements, alleyways and trash bring to light the hidden underbelly of things we seek to ignore. Her plans include upcoming solo exhibitions at Harcourt House in Edmonton and Hamilton Artists' Inc.
SOLO EXHIBITIONS
2014                Hamilton Artists' Inc., Hamilton, ON (Upcoming April 2014)
2013                Harcourt House, Edmonton AB (Upcoming August 2013)
2012                Amass, MFA Thesis Exhibition, FAB Gallery, Edmonton, AB
2010                Urban Diary, Eleanor London Côte Saint-Luc Public Library, Montreal, QC
2010                Urban Diary, Red Bird Gallery, Montreal, QC
2009                Façade Arrière, Galerie Port-Maurice, Montreal, QC
2009                Ruelles, Maison de la Culture Notre-Dame-de-Grâce, Montreal, QC
2006                Alleyways, Galerie V, Montreal, QC
2006                Jolies Poubelles, START Gallery, Sackville, NB
DUO AND GROUP EXHIBITIONS
2012                RBC Canadian Painting Competition 2012, Power Plant, Toronto, ON
Travelling to: Art Toronto, Toronto, ON and McMichael Gallery, Kleinberg, ON.
2012                The New Alberta Contemporaries, Esker Foundation Gallery, Calgary, AB
(curated by Caterina Pizanias)
2011                Innovation: Technics of a Mind Body Performance, Little Gallery, University of
Calgary, Calgary, AB (curated by Julie Boyd and Alma Visscher)
2011                Revisiting Ephemera, ArtLAB Gallery, University of Western Ontario, London, ON
2010                Archive and Everyday Life, Hamilton Artists Inc., Hamilton, ON (Curated by Mary
O'Connor, Irene Loughlin, Devon Mordell and Simon Orpana)
2008                Architectures for Nostalgia, Niagara Artists' Centre, St. Catherine's, ON
(with Colin Lyons)
2006                Puerta de la Lima, Struts Gallery, Sackville, NB
2006                stART: Emerging Artist Show, Studio 21, Halifax, NS
2006                BFA Graduate Exhibition, Owens Art Gallery, Sackville, NB

Back to artists