Kats, Evguenia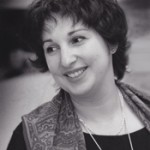 Born in St.Petersburg, Russia in 1970
Lives and works in Toronto, Ontario
Evguenia Kats with the help of several colors reflects the sacred life of everyday things.
To show the hidden mystery of existence, to analyze it artistically, to anaesthetize the world of simple things and to create a real prodigy out of simple and everyday objects – these are the main criteria of creative work of Evguenia Kats.
In 1989, Evugenia graduated with summa cum laude from the College of Art named after N. Rerikh (St. Petersburg, Russia) specializing in Oil Painting and Art Education.
In 1995, Evguenia graduated with summa cum laude from the Ilya Repin St. Petersburg State Academy of Painting, Sculpture and Architecture. She is recipient of numerous awards including Kandinsky Prize Long list Nominee 2010, Laureates Diploma of the Ministry of Education of Russian Federation, 2000, Residency at the Russian Academy of Arts, 1997-99. Evguenia's art works are represented in the permanent museum's collections in Russia (The State Benout Museum, The State Modest Musorgsky Museum) as well as in many private international collections in Canada and worldwide.
Selected exhibitions:
2012   "80 years of Artists Union", The House of St.Petersburg Artists, St.Petersburg, Russia
2011    Gisich Gallery, St.Petersburg Russia
2010    Gallery Moos at The Burroughes Contemporary Art Gallery, Toronto, Ontario
2010    Kandinsky Award 2010, Long List Nominee, Central House of Artist, Moscow, Russia
2009    "North of 7", Beaver Creek Gallery, North Hastings, Canada
2006    "My Garden", Fine Arts and Design Artville Academy, Toronto, Canada
2005    "Traps", Fine Arts and Design Artville Academy, Toronto, Canada
2004    "70 years of Artists Union", The House of St.Petersburg Artists, St.Petersburg, Russia
2003    "Peterburg-02", Juried Show, The Central Exhibition Hall, St.Petersburg, Russia
2002    Biennial of Contemporary Russian Graphic, C.A.S.E. Museum, Jersey City, NJ, USA
2001    "First Biennale of Graphic Art", St.Petersburg, Russia          
2000    "20 Years of C.E.S.E. Museum", C.E.S.E. Museum of Contemporary Russian Art, Jersey City, USA
2000    "Russia and Jews", Juried Show, C.E.S.E. Museum of Contemporary Russian Art, Jersey City, USA
2000    "Peterburg-99", Juried Show, The Central Exhibition Hall, St.Petersburg, Russia

Back to artists