Babyn, Elizabeth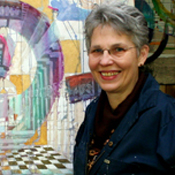 Elizabeth Babyn was born on Jan 8,1957 in the Eastern Townships in Quebec. She obtained her BFA with honors in Drawing and Painting at the Ontario College of Art and Design and now resides in Caledon, Ontario.
Babyn paints and teaches at her Bolton studio. Her current series derives its inspiration from a selection of under painted images depicting sacred geometry, sacred places and sacred architecture on raw canvas. With spontaneous large brush strokes, she allows her intuition to direct her as she navigates her way through the canvas.
Babyn has been a Loop Gallery member since 2003. She has recently exhibited in Toronto International Art Fair, Ferrara Italy, Propeller Gallery for the Visual Arts, Spin Gallery, Whitney Gallery, SGI, McMichael Gallery, Caledon East Studio Tour and the surrounding area.

Back to artists