Bergeron, Hugo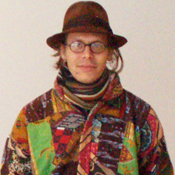 Born in 1981, Hugo Bergeron completed a Bachelor degree in visual arts at UQAM in 2008. He considers himself a landscape painter whose works highlight his chaotic vision of a disorderly world. His take on the landscape genre relies on the principle of stratification which he uses in order to make sense of the proliferation of information that characterizes the world in which he lives. In this confusing way, he depicts an active landscape where one is allowed to wander freely, with limitless borders and horizons. As in music, he aspires to offer, through landscape painting, a timeless space, which gives one's mind the chance to escape or to reflect on the chaos.
He goes from markings to motifs, from motifs to markings, and vice versa. The pleasure derived from the act of painting is present – constructing an image, manipulating colors and materials.  There is also the desire to want to do too much, to destabilize and to play with the limits of comfort and discomfort in this aesthetic world. He creates loaded images to highlight society's gluttony and the constant pressure on the individual. His view on landscape is a critical reflection of his vision of the world, which aims to retain reality's element of surprise. The result is a painting envisioned through intuition which is best experienced through one's imagination.
Despite a traditional approach to the medium (painting on canvas mounted on a stretcher), Hugo Bergeron tries to push the boundaries of painting through the increased use of pictorial effects, the abundance of color, the excessive materiality, the accumulation of contrasts as well as compositional fragmentation and, ultimately, through a meticulous search for order.
SOLO EXHIBITIONS
2011 OEuvres récentes, galerie Graff, Montréal (coming)
2009 On a laissé la chaudière s'encrasser, galerie Graff, Montréal
2008 La fanfare des taches, Arprim, Montréal
2003 OEuvres récentes /Recent Works, Maison Sir Étienne-Pascal-Taché, Montmagny
GROUP EXHIBITIONS
2010 2010 RBC Canadian Painting Competition - Semi-finalists Exhibition, Power Plant, Toronto
Cercle traumatique, Clark, Montréal
TIAF, galerie Graff, Metro Toronto Convention Centre, Toronto
2009 6ème édition des jeux de la francophonie, Beyrouth, Liban
TIAF, galerie Graff, Metro Toronto Convention Centre, Toronto
2008 Pan! Peinture 2, (Symposium), Québec
TIAF, galerie Graff, Metro Toronto Convention Centre, Toronto
La relève parle fort, galerie Quartier libre, Montréal
Printemps/Plein temps, galerie de l'UQAM, Montréal
Complot 5 : Huis clos, Art Mûr, Montréal
2007 Peinture fraîche, Art Mûr, Montréal
Concours Albert-Dumouchel 2007, Arprim, Montréal
2006 Beautiful étrangers, galerie Montgrand, Marseille
Vibrations, Maison Sir Étienne-Pascal-Taché, Montmagny
2005 Le portait revisité, Château Ramsay, Montréal
2004 Paramètre, galerie de l'UQAM, Montréal

Back to artists