Birch, Nathan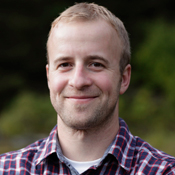 Nathan Birch was born in Lansing, Michigan, moved to Canada at an early age and was raised in Edmonton, Alberta. After earning his BFA at the Alberta College of Art and Design in Calgary, he began to actively pursue his artistic goals in painting the landscapes where he has lived: the Alberta Prairies, the West Coast of British Columbia and the Rocky Mountains.
To this end Nathan continues to explore the relationships between the painting as a window through the wall vs. the painting as an object placed on the wall.
Nathan currently lives and works in Fernie, BC.
SELECTED EXHIBITIONS
2011
New Paintings, Paul Kuhn Gallery, Calgary, AB
2009
New Work, Douglas Udell Gallery, Edmonton
2004
New Paintings, Paul Kuhn Gallery, Calgary, AB
Mira Godard Gallery, Toronto
2003
New Work, Solo Show; Douglas Udell Gallery, Edmonton, AB
Spring Show; Douglas Udell Gallery, Edmonton, AB
2002
Toronto International Art Fair; Douglas Udell Gallery, Mira Godard Gallery, ON
Artrageous 2; Illingworth Kerr Gallery, Alberta College of Art and Design, AB
Summer Landscape; Mira Godard Gallery, Toronto, ON
Spring and Fall Shows; Douglas Udell Galleries, Edmonton, AB and Vancouver, BC
Seven Months of Landscape, solo show; Art is Vital Gallery, Calgary, AB
2001
Christmas Show; Douglas Udell Gallery, Edmonton, AB
Nathan Birch; New Works, Art is Vital Gallery, Calgary, AB
2000
ACAD Graduation Show; Illingworth Kerr Gallery, Calgary, AB
GROUP EXHIBITIONS
2010
"Spring Show" Douglas Udell Gallery, Edmonton
"Fall Show" Douglas Udell Gallery, Edmonton
"Christmas Show" Douglas Udell Gallery, Edmonton
2009
"Fall Show", Douglas Udell Gallery, Edmonton
"Christmas Mix", Douglas Udell Gallery, Edmonton
"New Paintings", Mira Godard Gallery, Toronto
2008
"New Work", Douglas Udell Gallery, Vancouver
"New Paintings", Paul Kuhn Gallery, Calgary
2007
"New Paintings", Mira Godatd Gallery, Toronto
2006
"More or Less", Paul Kuhn Gallery, Calgary
2005
"Alberta Artists Seen – on the Mezzanine", National Arts Centre, Ottawa
"New Paintings", Mira Godard Gallery, Toronto
2004
"New Paintings", Paul Kuhn Gallery, Calgary
2002-07
Toronto International Art Fair, represented by Douglas Udell Gallery and Mira Godard Gallery
2002
"Artrageous 2", Illingworth Kerr Gallery, Alberta College of Art and Design, Calgary
"Summer Landscape", Mira Goddard Gallery, Toronto
Spring and Fall Shows, Douglas Udell Gallery; Edmonton and Vancouver
"Seven Months of Landscape", (solo show) Art is Vital Gallery, Calgary
2001
"Christmas Show", Douglas Udell Gallery, Edmonton
2000
"Artrageous", Illingworth Kerr Gallery, Alberta College of Art and Design, Calgary
"Hot Stuff", Art is Vital Gallery, Calgary ACAD Graduation Show, Illingworth Kerr Gallery, Calgary
"ACAD 4th year Studio Exhibition", Alberta College of Art and Design, Calgary
"ACAD 4th year Painting Show", Harrison Galleries, Calgary
1999
"Radio Towers and Telephone Lines", (solo exhibition), Marion nicol Gallery, Alberta College of Art and Design, Calgary
"U of C / ACAD Exchange Show", Little Gallery, University of Calgary, Calgary
1998
"Common Place", (Group Exhibition), Calgary

Back to artists