Bishop, Jack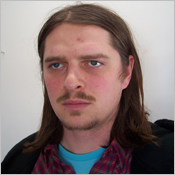 Jack Bishop received his BFA with a Major in Fine Art and Minor in drawing from NSCAD University in 2007 and divides his time between New Brunswick and Nova Scotia.
As a young artist, Bishop has exhibited in numerous public and group shows, including The Toronto International Art Fair, Toronto, ON, 2009; "Studio Watch, Emerging Artist Series", Beaverbrook Art Gallery, Fredericton, NB, 2008; Art with Heart Charity Auction for Casey House, Toronto, ON, 2007, "SWARM", Anna Leonowens Gallery, Halifax, NS, 2006, among others.
A selection of awards include: the New Brunswick Art Board's Emerging Artist of the Year prize, 2008, The Originals Saint John Art Award for Emerging Artist, 2010, ArtsNB Creation Grants in 2006 and 2008, and the Robert Pope Foundation Painting Scholarship, 2006.
Bishop's works are collected by public and corporate institutions, as well as by private clients. Collections include: Canada Council Art Bank, Ottawa, ON; Beaverbrook Art Gallery, Fredericton, NB; New Brunswick Art Bank, Fredericton, NB; Rivet Sales Agency, London, ON; and Partners Global, Halifax, NS. A selection of his works was also recently purchased for Canada's Department of Foreign Affairs.
SOLO EXHIBITIONS
2010 "Urban Sprawl", Gallery Page and Strange, Halifax NS (catalogue)
2009 "Survey of Work", Gallery Page and Strange, Halifax NS
2008 "Studio Watch: Emerging Artist Series", Beaverbrook, Fredericton NB (catalogue)
"Personnel to the Sales Floor for Customer Service, Please", Gallery Page and Strange, Halifax NS (catalogue)
2006 "SWARM", Anna Leonowens Gallery, NSCAD University, Halifax NS
SELECTED GROUP EXHIBITIONS
2011 "The Kids on the Block" Ingrid Mueller Art and Concepts, Fredericton NB
2010 "Premiere" Ingrid Mueller Art and Concepts, Fredericton NB
"Ours" City Gallery, Saint John Arts Centre, Saint John NB
2009 Toronto International Art Fair, Toronto ON
"New Brunswick Art Bank 2007-2008 Acquisitions" (Touring)
Galerie Colline, Université de Moncton, Edmundston NB
Andrew and Laura McCain Gallery, Florenceville NB
Galerie Restigouche Gallery, Campbellton NB
Galerie 12, Centre culturel Aberdeen, Moncton NB
University of New Brunswick Art Centre, Fredericton NB
Metepenagiag Park, Red Bank NB
Galerie Artcadienne, Carrefour Beausoleil, Miramichi NB
2008 "New Brunswick Art Bank 2007-2008 Acquisitions" (Touring) (catalogue)
Nepisiguit Centennial Museum and Cultural Centre, Bathurst NB
Saint John Arts Centre, Saint John NB
Toronto International Art Fair, Toronto ON
"Art with Heart", Charity Auction for Casey House, Toronto ON (catalogue)
2007 "Six by Six", Peter Buckland Gallery, Saint John NB
"Art with Heart", Charity Auction for Casey House, Toronto ON (catalogue)
"Contemporary Classics", Sunbury Shores, St Andrews NB
The Affordable Art Fair, New York USA
"Whodunit?", NB Museum, Saint John NB
"Two New Gallery Artists", Peter Buckland Gallery, Saint John NB
2006 "START: Emerging Artists Show", Studio 21, Halifax NS

Back to artists