Bloom, Louise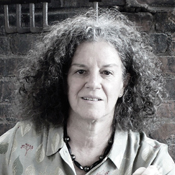 Louise Bloom, born in 1947 in Montreal, began attending classes at the Montreal Museum of Fine Arts at age 12, and entered the first undergraduate program in Fine Arts offered by Sir George Williams University when she was 16.
Bloom began a full-fledged professional art career in 1987, cultivating her love of printmaking at Atelier de l'Ile in Val David, QC. During 23 years of dedicated practice, she has developed skills that qualify her as a Master Printer. Bloom paints in oil, creates in mixed media, writes poetry and teaches yoga and meditation; she also coaches artists in life skills and supports their creative process.
"Printmaking demands focus, planning, precision, intuition, research, record-keeping, as well as studying new technologies in order to generate the magical surprise of the print itself. The discipline has been a training ground for honing the skills that have currently liberated a huge passion for painting."
L. Bloom
ARTIST STATEMENT
My work, print and paint, metaphor and narrative, is a unique, open­‐ended story being continued without conclusion. Central to the story are the consequences of human greed and the consumer culture. Reading and meaning of word and image are a preoccupation. Text is texture as well as talk. The icon Alice is at the center of various series of etchings/engravings that began in the year 2000 with the production of artist book, L'AUTRE HEURE. As a continued reinvention of Alice and friends from the original Lewis Carroll allegories, the series of etchings, ALICE'S GARDEN is a dark slightly humorous metaphor for our age of productivity. Scrolls, like cartoons suspended in space and oversized book pages maintain a light playful form for a somber subject. ALICE AWAKENING, a series of litho and collage represent the descent into the rabbit hole. Lithography here allows pure illustration made complex and sumptuous by the collage elements. Repetition and color substitution unique to printmaking support the concept life as the mirror. ALICE AWAKENING, artist book production/ 2010 by combines my original lithographic drawings with etchings, picture and text. This work, dedicated to a Buddhist poem about the attainment of transcendent joy. Alice in "Through the Looking Glass" discovers this potential. I have currently launched into a series of large format oil-­on-­canvas paintings that continue to elucidate my views on our cultural mishaps. The icon are now shouting with colour and imposing proportions, increasing possibilities for transformation.
SOLO EXHIBITIONS
2011 LIVRE OUVERT, Maison de la culture Mercier, Montreal, Quebec
2010 Le Jardin d'Alice, Bibliothèque/ Maison de la Culture, Rivière-des-Prairies.
2009Story and Scroll, Wilder & Davis Gallery, Montréal, Québec.
2008 Working Drawings for Transmission, Espace Hortense/P'tit Bonheur, St. Camille, Quebec.
2004 MonumentsMaison du Village, Val David. August 2004
2003 From the ModelDrawing from the Truth STUDIO 5413, Montréal, Québec
1999 Esoterica– Gravures, Conseil Québecois de l'Estampe, Montréal, Québec
1998 Traditions – A One Woman Show, Galerie Salon des Arts, St. Sauveur, Québec
JURIED GROUP EXHIBITIONS
2011 Valises numérique/valijas digitales, Québec/Cuba, Centres
d'Exposition, Val David, Québec
2010 La Biennale de la gravure/ nouvelles images de Sarcelles et Forêt Nomade
- Veltava Metsä, Centre d'exposition de Repentigny
2010 Mélange à trois: Sustenance, Felix Kulpa Gallery, Santa Cruz, CA
2010 "Nous irons au bois" - M. Patoine et l'Atelier de l'Ile, Centre
d'Exposition Val David, Québec
2009 IMPACT 6, International Print Conference Exhibition, University of West England, Bristol, UK.
2009 Ink and Clay, Kellogg University Art Gallery, Pomona, California.
2008 4th international miniprint of Rosario, Rosario, Argentina. (1st prize winner )
2008 Forêt nomade / Vaeltava metsa, The Science Center, The Old Port, Montreal, Québec.
2008 Book : Artwork / Le Livre: oeuvre d'art, Le Collège Dawson et Arprim, Montreal, Québec.
2008 La premiere, La Derniere, Atelier Circulaire : Maison de la Culture Frontenac, Montreal, Québec.
2008 Miniatures, Ottawa School of Art, Ottawa, Ontario.
2008 Traditions, Women Made Gallery, Chicago, Ill.
2008 Expositions d'Estampe, Galerie Wilder & Davis and ARPRIM, Montreal, Québec.
2008 Forêt nomade / Vaeltava metsa, Museum of Science and Technology Canada, Ottawa
2008 Footprints, 1st Biennal International Print, Center Contemporary Printmaking, Norwalk, Conn.
2008 Méa Culpa, Felix Culpa Gallery, Santa Cruz, California
2008 Une histoire gravée, Musée d'Art Contemporain de St. Jerome, St. Jerome
2007 Visual Telephone, Donkey Mills Art Center, Holualoa, Hawaii
2007 Atelier Circulaire at Musée Mt. St. Hilaire, Mont St. Hilaire, QC.
2006 Pure Painting, Woman Made Gallery, Chicago, Ill.
2006 "ARRIVALS" - Solander Paperworks Gallery, Kilburnie, New Zealand
2006 Archives, Recherche, Création - Atelier de l'Ile, - La Maison du Village, Val David
2006 Miniatures 2006, Salle Augustin-Chenier, Ville Marie, QC
2006 Miniature Prints - Ottawa School of Arts , Ottawa, Ontario.
2005 Sous L'Encre des Mots, Atelier de L'Ile, Val David, Quebec
2005 Miniares , Mini Prints International, Australia, Conseil Québecois de l'Estampe
2004 Symposium International d'Art sur Papier, Gallery les Nouveaux Barbares, Montréal
2003 L'Avenir des paysages, Estampes des artistes de l'Atelier de l'Ile, Olivier Martin
2003 Exposition: Foundation du Musée d'art des Laurentides, Vieux Palais, St.Jerome, QC
2002 Thème ou Thème Pas, Mois de l'Estampe - Galerie Oliver Martin, Montreal
2000-02 Miniares, Mini Prints International , Conseil de Québecois de l'Estampe,
2001 Timbres du Millénaire, Centre d'exposition du Vieux-Palais, St.Jerome/
Musée de Civilization, Ottawa
2000 Autres Heures - Lancement Livre d'Artiste, Galerie Loto Québec, Montreal
1999 "Substance d l'Encre", Bibliothèque Nationale de Québec, Montreal
1998 20 ans - Atelier de l'Ile, Musée des Beaux Arts, Montreal

Back to artists