Durette, Pierre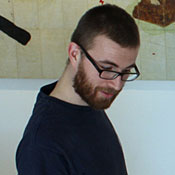 Pierre Durette was born in 1980. Originally from Causapscal in the Matapedia Valley, he lives and works in Montreal since 2002.
In 2006, he completed his degree in visual arts from the Université du Québec à Montréal. During his studies, he won in 2005 the competition of Projet insertion organized by Galerie/Atelier Graff in Montreal and in 2004 he was awarded the Grand Prix Albert-Dumouchel. After his studies, Durette has received many awards and grants amongst which in 2007 the excellency grant Marcel Bellerive as well as an excellency grant from the Festival international de Montréal en Art.
In 2009 a research and creation grant by the Conseil des arts et lettres du Québec. His works have been exhibited at the Musée d'art contemporain de Montréal, at The Power Plant in Toronto and in many art centers in province of Quebec. He is represented by Galerie Orange in Montreal and Galerie Lacerte in Quebec city.
Photo credit: Agathe Piroir
SOLO EXHIBITIONS
2011 Fraction, Centre d'artiste Verticale, Laval
2011 Galerie Orange, Montréal
2011 Expiation, Centre d'artiste Grave, Victoriaville
2010 Parade, Centre d'artiste Caravasérail, Rimouski
2010 Dévotion, Centre d'artiste Vaste et Vague, Carleton
2010 Propagation, Maison de la Culture Ahuntsic, Montréal
2009 Peur et barbarie, Centre d'artiste Espace Virtuel, Saguenay
2006 Première chambre, Centre d'exposition du Vieux Presbytère, St-Bruno
GROUP EXHIBITIONS
2011 7, Biennal de Trois Rivières,Trois Rivières
2011 Collectif, Galerie Circulaire, montréal
2010 'The greatest show on earth!', Gallery xpace, Toronto
2010 Ces artistes qui impriment, Bibliothèque et Archives nationales, Montréal
2010 Bombardement d'amour, Centre d'artiste Collectif Regart, Lévis
2009 11e concours de peintures RBC, Musée d'art contemporain de Montréal
2009 11e concours de peintures RBC, The Power Plant, Toronto
2009 Encan bénéfice, Écomusée du fier monde, Montréal
2008 Collectif d'artiste, Galerie Lacerte, Québec,
2008 Suspense, Galerie Orange, Montréal,
2008 Encan bénéfice, Écomusée du fier monde, Montréal
2007 OEuvres sur papier, Galerie Orange, Montréal
2007 Quatre-quarts, Galerie Orange, Montréal
2006 Biennale : Art sur papier, Galerie Jean-Claude Bergeron, Ottawa
2006 Biennale internationale de miniatures, exposition itinérante, Vancouver, Whitehorse et Yukon
2006 1er exposition internationale de miniatures, Ottawa School of Art Gallery, Ottawa
2005 et 2004 Paramètre 2005, Paramètre 2004, Galerie de l'UQÀM, Montréal
2004 Prix Albert Dumouchel, Collège Dawson, Montréal
2004 Dans un jardin, Château Ramzay, Montréal

Back to artists