Gretsky, Dmitry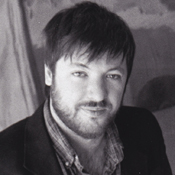 Les œuvres de Dmitry Gretsky démontrent un réalisme saisissant.
Ses intérêts artistiques incluent l'art figuratif, les portraits de groupe, les compositions à figures multiples et le style épilogué. Ayant acquis une formation classique à St-Petersbourg, ses choix de médias variés et sa maîtrise évidente de plusieurs techniques complexes démontrent un dévouement à l'excellence. Dmitry gradua en 1989 du N.Rerikh College of Art; il obtint ensuite un diplôme de l'Ilya Repin St- Petersburg State Academy of Painting en 1995.
Il vit et travaille à Toronto, en Ontario, depuis 1999. Dmitry s'est mérité de nombreuses reconnaissances de ses pairs incluant le Kandinsky Prize Long list Nominee en 2010 et 2009, le Sobey Art Award Nominee 2010, ainsi qu'une bourse de Pollok-Kresner Foundation en 1998. Les œuvres de Dmitry ont été exposées et vendues aux enchères Shapiro en 2008, MacDougall en 2007, Sotheby's en 2001, ArtLink@Sotheby's en 2001 et elles font partie de collections muséales permanentes en Russie et aux États-Unis, ainsi que de plusieurs collections privées.
EXPOSITIONS SÉLECTIONNÉES
2011 Gisich Gallery, St.Petersburg Russia
2010 Gallery Moos at The Burroughes Contemporary Art Gallery, Toronto, Ontario
2010 Kandinsky Award 2010, Long List Nominee, Central House of Artist, Moscow, Russia
2009 24th International Juried Show, Visual Arts Center of New Jersey, NJ, USA
2009 Kandinsky Award 2009, Long List Nominee, Central House of Artist, Moscow, Russia
2008 "Garbage", Fine Arts and Design Artville Academy, Toronto, Canada
2004 "100 years of Artists Union", The House of St.Petersburg Artists, St.Petersburg, Russia
2003 "Peterburg-02", Juried Show, The Central Exhibition Hall, St.Petersburg, Russia
2002 Biennial of Contemporary Russian Graphic, C.A.S.E. Museum, Jersey City, NJ, USA
2001 "First Biennale of Graphic Art", St.Petersburg, Russia
2000 "The Wonderful Seven", C.A.S.E. Museum of Contemporary Russian Art, Jersey City,
New Jersey & Grant Gallery, New York, NY, USA.
2000 "Young Russia", Grant Gallery, New York, NY, USA
2000 "20 Years of C.E.S.E. Museum", C.E.S.E. Museum of Contemporary Russian Art, Jersey City, USA
2000 "Russia and Jews", Juried Show, C.E.S.E. Museum of Contemporary Russian Art, Jersey City, USA
2000 "Peterburg-99", Juried Show, The Central Exhibition Hall, St.Petersburg, Russia
1999 "Peterburg-98", Juried Show, The Central Exhibition Hall, St.Petersburg, Russia
1998 Solo Show, F. Dostoevsky Museum, St.Petersburg, Russia
1998 Solo show, Art Center "Prin", St.Petersburg, Russia
1998 "The children of Perestroika", Juried Show, Zalman Gallery, New York Gallery Building
1998 "The children of Perestroika", Juried Show, C.E.S.E. Museum of Contemporary Russian Art, Jersey City, USA
1998 "Unknown Russia", Juried Show, C.E.S.E. Museum of Contemporary Russian Art, Jersey City, USA
1998 "Contemporary Russian Vanguard 1958-1998", Exhibition Center, N.Novgorod, Russia
1998 "From Moscow…", Juried Show, ArtCollegiya Gallery, St.Petersburg, Russia
1998 "Peterburg-97", Juried Show, The Central Exhibition Hall, St.Petersburg, Russia
1997 "Highway 787", Solo show, A. Akhmatova Museum, St.Petersburg, Russia
«Gandvana», Nevsky Gallery, N.Y.,U.S.A.
1995 Group Show, City Hall, St.Petersburg, Russia
1995 Spring Exhibition, St.Petersburg Artist League, St.Petersburg, Russia
1995 "Dialogs", 2nd International Juried Show, "Manezh", St.Petersburg, Russia
1995 "Graduation Show", The Russian Academy of Arts, St.Petersburg, Russia
1993 Spring Exhibition, juried show, St.Petersburg, Russia
1992 "Peterburg-92", Juried Show, The Central Exhibition Hall, St.Petersburg, Russia
1993 Group Show, Gliassin Gallery, Belgium
1993 "Objects", Vress Municipal Cultural Center, Belgium
1991 The Group Sgraffito Show, The House of International Friendship, St.Petersburg, Russia
1989 "Les", St.Petersburg, Russia

Retour aux artistes