Gretsky, Dmitry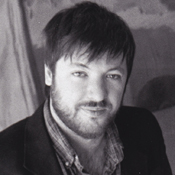 Figurative art, group portraits, multi-figure compositions together with the genre of paraphrase comprise the sphere of Dmitry Gretsky artistic interests. The last few of his series have been dedicated to research into the insubstantial process of transformations of artificial life into the life image and the life image into artificial life. The transformation per se begins with personification.
Often manifold enlargement and large formatting of his paintings allow to bring out in even the smallest object some quality normally not in character for this particular object, such as monumental-ity and significance. Such mega-scale gives most characters new meaning and a new voluminous "voice".
Creation of a smooth surface for each image, through the special artistic technique where the edge of the palm of hand is used to even the surface of the painting allow Gretsky to reach a specially deep graduation of tonalities. The low viewing angle and concentrated lighting sharpen the visual image and reinforce the mood of the painting. Reorganizing, rethinking and re-visioning of the historical events and facts, and searching for parallels between them create the base that artist use as a source for his inspiration.
Dmitry Gretsky regularly participates in various solo and group exhibitions worldwide totalling, up to date there are 50 such events. Dmitry's exhibitions featured the following techniques: oil paintings and oil pastel series, pencil drawings.
SELECTED EXHIBITIONS
2011 Gisich Gallery, St.Petersburg Russia
2010 Gallery Moos at The Burroughes Contemporary Art Gallery, Toronto, Ontario
2010 Kandinsky Award 2010, Long List Nominee, Central House of Artist, Moscow, Russia
2009 24th International Juried Show, Visual Arts Center of New Jersey, NJ, USA
2009 Kandinsky Award 2009, Long List Nominee, Central House of Artist, Moscow, Russia
2008 "Garbage", Fine Arts and Design Artville Academy, Toronto, Canada
2004 "100 years of Artists Union", The House of St.Petersburg Artists, St.Petersburg, Russia
2003 "Peterburg-02", Juried Show, The Central Exhibition Hall, St.Petersburg, Russia
2002 Biennial of Contemporary Russian Graphic, C.A.S.E. Museum, Jersey City, NJ, USA
2001 "First Biennale of Graphic Art", St.Petersburg, Russia
2000 "The Wonderful Seven", C.A.S.E. Museum of Contemporary Russian Art, Jersey City,
New Jersey & Grant Gallery, New York, NY, USA.
2000 "Young Russia", Grant Gallery, New York, NY, USA
2000 "20 Years of C.E.S.E. Museum", C.E.S.E. Museum of Contemporary Russian Art, Jersey City, USA
2000 "Russia and Jews", Juried Show, C.E.S.E. Museum of Contemporary Russian Art, Jersey City, USA
2000 "Peterburg-99", Juried Show, The Central Exhibition Hall, St.Petersburg, Russia
1999 "Peterburg-98", Juried Show, The Central Exhibition Hall, St.Petersburg, Russia
1998 Solo Show, F. Dostoevsky Museum, St.Petersburg, Russia
1998 Solo show, Art Center "Prin", St.Petersburg, Russia
1998 "The children of Perestroika", Juried Show, Zalman Gallery, New York Gallery Building
1998 "The children of Perestroika", Juried Show, C.E.S.E. Museum of Contemporary Russian Art,
Jersey City, USA
1998 "Unknown Russia", Juried Show, C.E.S.E. Museum of Contemporary Russian Art, Jersey City, USA
1998 "Contemporary Russian Vanguard 1958-1998", Exhibition Center, N.Novgorod, Russia
1998 "From Moscow…", Juried Show, ArtCollegiya Gallery, St.Petersburg, Russia
1998 "Peterburg-97", Juried Show, The Central Exhibition Hall, St.Petersburg, Russia
1997 "Highway 787", Solo show, A. Akhmatova Museum, St.Petersburg, Russia
«Gandvana», Nevsky Gallery, N.Y.,U.S.A.
1995 Group Show, City Hall, St.Petersburg, Russia
1995 Spring Exhibition, St.Petersburg Artist League, St.Petersburg, Russia
1995 "Dialogs", 2nd International Juried Show, "Manezh", St.Petersburg, Russia
1995 "Graduation Show", The Russian Academy of Arts, St.Petersburg, Russia
1993 Spring Exhibition, juried show, St.Petersburg, Russia
1992 "Peterburg-92", Juried Show, The Central Exhibition Hall, St.Petersburg, Russia
1993 Group Show, Gliassin Gallery, Belgium
1993 "Objects", Vress Municipal Cultural Center, Belgium
1991 The Group Sgraffito Show, The House of International Friendship, St.Petersburg, Russia
1989 "Les", St.Petersburg, Russia

Back to artists