Krawecka, Elzbieta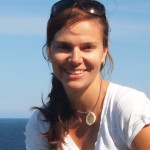 Born in Krakow, Poland, in 1971 and having lived at a young age in Kuwait with her family, she moved to Canada (in 1989), where she received her formal art training at the Ontario College of Art and Design. Based in Toronto, Ontario she has been exhibiting nationally for over fifteen years.
Krawecka continues to pursue international travel which deeply inspires her work.  While her painting technique is based on the Old Masters', her take on landscape is further touched by a uniquely personal treatment of light and space; for just as movement has figured a major role in her life, so it becomes the focus in her work.
Krawecka's paintings often depict large open spaces, such as skies and surfaces, defined by pattern formations always on the brink of change. While exploring the subtle transience of light, her ubiquitous skies referring to a universal space of collective memory, she strives to capture that elusive movement, in an atmospheric blurring of boundaries between land, water, and sky; representational moving towards abstract. In this subtle fluidity where nothing is constant, mass suddenly dematerializes while sky takes on substance, space becoming tangible.
exhibitions
2012 Twig - James Baird Gallery, NF
2011 Ode to The Sea - James Baird Gallery, St. John's, NF
2011 Coming Home - Diane Farris Gallery, Vancouver, BC
2008 Fin del Mundo - Canada House Gallery, Banff, AB
2007 with Amy-Claire Huestis - Diane Farris Gallery, Vancouver, BC
2007 Dissolution - James Baird Gallery, St. John's, NF
2007 Fin del Mundo - De Long Gallery, Toronto, ON
2005 Spotlight - James Baird Gallery, St. John's, NF
2005 Sojourners '05 - Level Gallery, Collingwood, ON
2005 New Work - Galerie d' Avignon, Montreal, QC
2004 Recent Work - James Baird Gallery, St. John's, NF
2003 Sojourners - Level Gallery, Collingwood, ON
2002 Ingressio - James Baird Gallery, St. John's, NF
2002 Recent Paintings - Arcadia Gallery, Toronto, ON
1999 Barnboard - Juten Gallery, Toronto, ON
1998 Realm - Gallery 401, Toronto, ON
1997 Stark Nature - Gallery 306, Toronto, ON
selected group shows
2012 Water, James Baird Gallery, NF
2011 Five Painters, Elissa Cristall Gallery, Vancouver, BC
2010 All About Blue, Diane Farris Gallery, Vancouver, BC
2009 Deborah Herringer Kiss, Calgary, AB
2009 Canada House Gallery, Banff, AB
2008 Niagara Street Group Show, (organized by James Baird Gallery) , Toronto, ON
2008 Concurrence, Nuit Blanche, Toronto, ON
2008 Avalon, DeLong Gallery, Toronto, ON
2008 Artist Project, Liberty Grand, Toronto On
2008 Celebrating 10 years, Galerie d'Avignon, Montreal, QC
2006 First Encounter, Diane Farris Gallery, Vancouver, BC
2006 Milk, Bedroom Gallery, Toronto, ON
2006 Water, James Baird Gallery, St. John's, NF
2006 Made to Measure, Arts Etobicoke Gallery, Toronto, ON
2005 Toronto International Art Fair, Toronto, ON
2005 I Am - James Baird Gallery St. John's, NF
2005 Toronto Inside Art Expo - Toronto Convention Center
2004 D'un ocean l'autre - Galerie d'Avignon, Montreal, QC
2003 About Love - Juried Show, Lonsdale Gallery, Toronto, ON
2003 Standards - De Long Gallery, Toronto, ON
2003 Art Knows No Borders - Assembly Hall, Etobicoke, ON
2003 Whistler Art Gallery, Whistler, BC
2003 Your Choice - Praxis Gallery, Toronto, ON
2003 New Paintings - Galerie d'Avignon, Montreal, QC
2003 The Antidote to S.A.D., DeLong Gallery, Toronto, ON
2003 A.D. - Praxis Gallery, Toronto, ON
2003 Toronto Outdoor Art Exhibition Nathan Philip's Square, Toronto, ON
2003 Water - OSA 129th Open Juried Show, 401 Richmond, Toronto, ON
2003 Sedare - James Baird Gallery, St. John's, NF
2003 Winter 2003 - Level Gallery, Collingwood, ON
2002 Water - James Baird Gallery, St. John's, NF
2002 Toronto Outdoor Art Exhibition, Nathan Philip's Square, Toronto, ON
2001 Summer Show - Arcadia Gallery, Toronto, ON
2001 OSA 127th Annual Open Juried Show - John B Aird Gallery, Toronto, ON

Back to artists