Lemieux, Danièle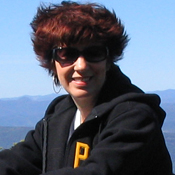 b. 1959
Danièle Lemieux is a professional artist based in Montréal. Her work is acclaimed for its fusion of contemporary composition with a classic painterly style and has been reviewed in newspapers, magazines and books and on television. Her style is unique and people appreciate her work for its quiet simplicity and poetic statements honouring everyday objects.
Danièle graduated from Dawson College in 1979 with a degree in graphic design and was a respected art director and commercial illustrator for 20 years. Meanwhile, she kept her first love for fine art alive by continuing her studies for many years at the Visual Art Centre in Westmount, Quebec, carving out time to paint between commercial assignments. Since 1998, Danièle has devoted herself to painting full time.
She has been featured in many group and solo shows and is represented by major galleries across Canada in Victoria, Edmonton, Toronto, Ottawa and Quebec City. Her work can be viewed on her website DanieleLemieux.com, or on her blog paintingoftheweek.ca, where she has posted a recent painting with commentary every week since January 2007.
RECENT EXHIBITIONS
2010
West End Gallery, Victoria BC, Group Show
Gallery Gevik, Toronto, ON, Group Show
Wallack Galleries, Ottawa, ON, Group Show
West End Gallery, Victoria BC, Two-Artist Show
2009
Wallack Galleries, Ottawa, ON, Solo Show
Agnes Bugera Gallery, Edmonton, AB, Solo Show
2007
Gallery Gevik, Toronto, ON, Solo Show
Harrison Galleries, Calgary, AB, two artist show
Gallery Gevik, Toronto, ON, Group Show
Galerie Arte, Montreal, QC, Group Show
2006
Harrison Galleries, Vancouver, BC, Group Show
Gallery Gevik, Toronto, ON, Group Show
Stewart Hall Art Gallery, Pointe Claire, QC, Group Show
Les Femmeuses, Longueil, QC, Group Show
2005
Arts Sutton, Sutton, QC, Solo Show
Wallack Galleries, Ottawa, ON, Solo Show
Les Femmeuses, Longueil, QC, Group Show
PUBLICATIONS
Montreal Symphony Orchestra Calendar 2006, Fall 2005
How Did You Paint That–Still Life, Spring 2005
How Did You Paint That–Favorite Subjects, Fall 2004

Back to artists