Lima, Joe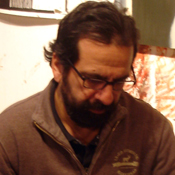 b. 1963
Joe Lima has a thorough art education that includes a Diploma in Fine Arts from Fanshawe College in London Ontario and a Bachelor of Fine Arts from Concordia University. His impressive exhibition record includes group and solo exhibitions in Canada and Portugal. His works consist mostly of frescos and paintings made with oil and wax. Lima has given lectures and workshops at several universities on his fresco technique. Originally from Azores Portugal, Joe Lima has been living and working in Montréal since 1987.
Joe Lima is a painter, printmaker and sculptor. He was born in Sao Miguel in the Portuguese Azores in 1963. He studied visual arts at Fanshawe College in London Ontario and at Concordia University in Montreal. Joe Lima works and lives in Montreal, Quebec.
Since the mid nineteen – eighties Joe Lima has been exhibiting his work in galleries and museums across Canada and Portugal. Earlier in his career his main focus was sculpture and he participated in several exhibitions including works at the Galerie d'Art Lavalin in Montreal and Marsil Museum St. Lambert and at Sherbrooke University in Sherbrooke. Quebec.
As a painter he has exhibited his work at Cambridge, Ontario and at the Rodman Hall Arts Centre in St. Catharine's Ontario in a show titled the Uneasiness of Silence. This exhibition displayed some of Joe Lima's frescos, a medium that he has been involved with since the early nineties. His frescos have also been widely seen in Portugal which includes works in Ponta Delgada Azores and at Museu Nogueira da Silva in Braga Portugal. Joe Lima recently displayed some of his large woodcut prints and oil paintings in an exhibition titled the The Barrier of Fear at Carmina Gallery in the Azores, Portugal. He was also selected to exhibit some of his woodcut prints at the 8th International Biennial of Contemporary prints in Liege Belgium.
Joe Lima's work explores the human condition in relation to one's environment. An environment that at times is unsettling and ominous. He works from film footage and photos that he has produced in Portugal and in Quebec. He explores a wide range of subjects to achieve a narrative that reveals a world of mystery and uncertainty.
EXHIBITIONS
2011 Barrier of Fear
Carmina - Galeria de Arte Contemporanea - Terceira, Açores Portugal
2010
Artnivores 2010
La Biennale De Sculpture- Saint-Jean-Port-Joli, Quebec
Revisitar Arte
Carmina - Galeria de Arte Contemporanea - Terceira, Açores Portuga
2008
Recent Acquisitions
Museu de Angra do Heroismo, Portugal
2007
ilhéus e ilusoes - Joe Lima / Miguel Rebelo
Carmina - Galeria de Arte Contemporanea - Terceira, Açores Portugal
Pintores luso descendentes galeria
Museu Nogueira da Silva - Braga, Portugal
2006
Joe Lima: Œvres Récentes - solo
Quartier Libre Galerie d'art - Montreal, Quebec
Rooms and Outer Places - solo
Galerie St-Laurent + Hill - Ottawa, Ontario
2005
I AM - Self Portraits - A Tribute to Lynn Donaghue
James Baird Gallery - St. John's, Newfoundland
As Cores Miticas da Ilha
Carmina Galeria de Arte Contemporâmea - Outeiro do Galhardo, Feteira, Terceira, Azores
Joe Lima - The Uneasiness of Silence - solo
Rodman Hall Arts Centre, Brock University - St. Catharine's, Ontario
the uneasiness of silence paintings by Joe Lima - solo
Cambridge Galleries – Cambridge, Ontario
2004
Ils sont 19 du quebec
James Baird Gallery – St. John's, Newfoundland
2004
That Obscure Object of Desire: A Group Exhibition of Visions of Delight, Fascination and Desire
Cambridge Galleries – Cambridge, Ontario
2003
Sem Saudade – without regret
Fifty Years of Portuguese in Canada
Contemporary Art by Canadians of Portuguese Heritage
NATIONAL ART EXHIBITION
Gallery 1313, Toronto, Ontario
2002
Gallery Artists at the Luz
Galerie LUZ - Montreal, Quebec
2002
Sem Saudade – Contemporary Art by Canadians of Portuguese Heritage
Cambridge Galleries - Cambridge, Ontario
2002
Exposition Enchantée
Écomusée de fier monde - Montreal, Quebec
2001
Peinture/Painting: Joe Lima – solo
Galerie LUZ - Montreal, Quebec
2000
The Fresco Paintings: Joe Lima - solo
Galeria de Arte da Câmara Municipal - Ponta Delgada, Portugal
1999
Espace 414 – Recent Paintings: Joe Lima & Marie deSousa
Centre D'Art Belgo – Montreal, Quebec
1998
11o CIC LO DE CULTURA ACORIANA - solo
Centro De Divulgacao Açoriana No Canada - Toronto, Ontario
1998 Exposition de faculté/Faculty Exhibition
galerie Liane et Danny Taran - de Centre des Arts Saidye Bronfman
Montreal, Quebec
1996
4710 St-Ambroise :Jean-Marie Delavalle, John Fox, Joe Lima, Louis Masson, Jean McEwen
Didactart - Complexe du Canal Lachine, Montreal, Quebec
1995
Lush
Galerie Articule - Montreal, Quebec
1994
Ouverture "Welcome Show"
Galerie Articule - Montreal, Quebec
1994
Systems of Exchange: The Toronto/Montreal Exchange Arts Project
May 1994,
205 Richmond 4th, Toronto, Ontario
June 1994, #110 - 10 Ontario, Montreal, Quebec
1994
Catalyst
London Regional Art Gallery and Historical Museums - London, Ontario
1993
Les ateliers s'exposent
Galerie Cobalt , Art Actuel - Montreal, Quebec
1992
Small Works, Big Artists
Galerie Articule - Montreal, Quebec
1991
Small Formats
Grant Gallery - Hamiltion, Ontario
1990 to 1991
Anarchitecture: The Inaccessible Dwelling
Marsil Museum, St. Lambert (Quebec)
Sherbrooke University, Sherbrooke (Quebec)
1990
Wall Pieces - Joe Lima - solo
Grant Gallery - Hamilton, Ontario
1989
Recent Work - Sculptures and Wall Pieces - solo
Complexe du Canal Lachine, Yellow Gallery - Montreal, Quebec
1989
Series Kompakt
La Galerie d'Art Lavalin - Montreal, Quebec
1989
First Annual Val David Arts Festival
In association with Les Createurs Associés - Val David, Quebec
1988
Concordia University Art Gallery
Montreal, Quebec
1987
Works of Contemporary Artists in London
Centricity Gallery - London, Ontario
1987
Recent Work - Joe Lima - solo
Centricity Gallery - London, Ontario
1986
Recent Drawing - Joe Lima - solo
Centricity Gallery - London, Ontario
1986
Temporary City Gallery
London, Ontario
1986
Arts 86
Macleans Building - Toronto, Ontario
1986
Arts 86
Ottawa City Hall - Ottawa, Ontario
1985
45th Jury Exhibition
Art Gallery of Windsor – Windsor, Ontario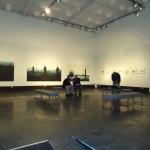 Back to artists