Luciani, Tony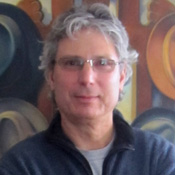 b. 1956
Tony Luciani was born in Toronto, Ontario, in 1956. The artist, growing up in Toronto, was able to partake in the best possible creative education. After Central Technical School, Sheridan Community College, and the Ontario College of Art from 1975 to 1978, Tony received his degree along with postgraduate study in the off-campus program in Florence, Italy. In defining his work, the artist prefers to be placed in a tradition of realism which is interpretive rather than photographic.
All preparatory drawings are done on location and then worked to a larger scale in the studio where details are eliminated or elaborated in order to convey the artist's intent.
Luciani considers his early major influence to pass through Eric Freifeld to Stanley Spencer and as far back to Van Eyck and Bruegel the Younger. Tony Luciani is represented in important private and corporate collections throughout Canada and the world.
SOLO CANADIAN EXHIBITIONS
2009-10 Durham Art Gallery, Durham, Ontario; 'Transitions'
2007 Galerie Crescent Contemporain, Montreal, Quebec; 'From Da Vinci to Freud'
2005 Loch Gallery, Toronto, Ontario; 'Layered Reality'
2003 Harriston-Minto Heritage Gallery, Harriston, Ontario; 'Dark Light, Peering Into The Shadows'
1999 Commingle, Goderich, Ontario
1997 Nancy Poole's Studio, Toronto
1995 Joseph D. Carrier Public Gallery, Toronto
1993 Homer Watson House and Gallery, Kitchener, Ontario
1993 Roberts Gallery, Toronto
1990-91 Kitchener/Waterloo Public Art Gallery, Kitchener, Ontario; catalogue
1992 Rodman Hall Arts Centre, National Exhibition Centre, St. Catharines, Ontario; catalogue
1989 Nancy Poole's Studio
1984 Rodman Hall Arts Centre, National Exhibition Centre; catalogue
1984 Nancy Poole's Studio; catalogue
1980 Nancy Poole's Studio
GROUP CANADIAN EXHIBITIONS
2011 'Bruno Capolongo Juried Invitational', Hamilton Conservatory for the Arts Gallery,.Hamilton,.Ontario,
FCP Award of Excellence, First.Prize
2010-2011 'Best of the Contemporaries', Loch Gallery, Toronto
2010 'Where They Are Now! An OCADU Alumni Juried Exhibition', Art Square Gallery, Toronto
2010 'Concepts and Canvas', Loch Gallery, Toronto
2010 'Common Ground: Community Art Project', Durham Art Gallery, Durham, ON.
2009-2010 'Best of the Contemporaries', Loch Gallery, Toronto
2009-2010 The Kingston Prize, Canada's National Juried Portrait Competition; Kingston, Ontario;
Wolfville, Nova Scotia; Toronto, Ontario; Calgary, Alberta
2008 Loch gallery, Toronto; Summer Exhibition
2008 Loch Gallery, Calgary; 'Explorations in Realism'
2008 Loch Gallery, Toronto; 'Masterworks' , gallery artists
2008 Loch Gallery, Toronto; 2 new works
2008 'The Best Of The Contemporaries', Loch Gallery, Calgary, Alberta, catalogue
2008 'The Best Of The Contemporaries', Loch Gallery, Toronto, catalogue
2007 Galerie Crescent Contemporain, Montreal; 'Introduction'
2007 Loch Gallery, Toronto; 'A Selection of New Paintings', Gallery Artists
2006 Loch Gallery, Toronto; 'Figure In Landscape'
2005 Joseph D. Carrier Gallery, Toronto; 'Portfolio Collection'
2003 Italian Cortina Club, Kitchener; "Maggio Artistico"
2002-03 "Identita: An Exhibition by Italian Canadian Artists; A Traveling Exhibition",
Glenhyrst Art Gallery of Brant, Brantford, Ontario, and Joseph D. Carrier Gallery, Toronto;.catalogue
2002 Etobicoke Public Art Gallery, juried exhibition, Etobicoke, Ontario (Best in Show Prize)
2002 Italian Cortina Club, Kitchener, Ontario, "Maggio Artistico"
2002 Marten Arts, Bayfield, Ontario
2001 Westdale Gallery, Hamilton, Ontario
2001 Etobicoke Public Art Gallery; juried exhibition, Etobicoke, Ontario (Best in Show Prize)
2001 "Insights: A Juried Competion", Wellington County Museum, Fergus, Ontario
2001 Italian Cortina Club, Kitchener, "Maggio Artistico"
2000 Italian Cortina Club, Kitchener; "Maggio Artistico"
2000 Gallery One, Toronto, Ontario
1999 Wellington County Museum, Fergus, Ontario; 'Fathers and Sons', invitational
1999 Gallery One, Toronto, Ontario
1999 "Insights: A Juried Competition", Wellington County Museum, In association with the Elora Arts Council),
Fergus, Ontario; Twentieth Anniversary Award
1999 Marten Arts Gallery, Bayfield, Ontario
1998 Italian Cortina Club, Kitchener; "Maggio Artistico"
1998 Wellington County Museum, Fergus, Ontario; Self Portrait Exhibition
1997 Marten Arts Gallery 1997 Nancy Poole's Studio; 8 new works
1996 Marten Arts Gallery
1996 Nancy Poole's Studio; 5 new works
1995 Marten Arts Gallery
1995 Nancy Poole's Studio;5 new works
1995 MacDonald Stewart Art Gallery, Guelph, Ontario; juried
1994 Roberts Gallery; 5 new works
1993 Tom Thomson Memorial Gallery, Owen Sound, Ontario; juried
1993 Roberts Gallery
1992 "Insights: A Juried Competition", Wellington County Museum, In association with The Elora Arts Council,
Fergus, Ontario; second place
1992 Roberts Gallery; Artists Choice
1992 Roberts Gallery; 4 new works
1991 "Insights: A Juried Competition", Wellington County Museum, In association with The Elora Arts Council; first place
1991 Roberts Gallery; 6 new works
1989 Nancy Poole's Studio; 6 new works
1989 Nancy Poole's Studio; Invitational
1988 Nancy Poole's Studio; 7 new works
1988 Nancy Poole's Studio; 6 new works
1988 Nancy Poole's Studio; Spring Exhibition
1987 "Personal Vision in Landscape", The Gallery, Cambridge, Ontario; catalogue
1987 "Aspects of Contemporary Realism", The MacIntosh Art Gallery, University of Western Ontario,
London, Ontario
1987 Nancy Poole's Studio; 4 new works
1986 Nancy Poole's Studio; 6 new works
1985 Nancy Poole's Studio; 5 new works
1984 Nancy Poole's Studio; 5 new works
1983 The Art Gallery of St. Thomas-Elgin, St. Thomas, Ontario; juried; purchase award
1983 Gallery 1667, Halifax, Nova Scotia
1983 Nancy Poole's Studio; 4 new works
1982 Nancy Poole's Studio; Tribute to Ontario College of Art Week; 6 new works
1981 City of Toronto Archives, Market Gallery; "Toronto... New Perspectives-Old Reflections"
1980 Nancy Poole's Studio; 7 new works
1980 London Regional Public Art Gallery; International Print and Drawing Exhibition; catalogue
1979 Nancy Poole's Studio; "Group Water Colour Exhibition"
1979 "Water Colour Painting in Canada: A Survey of Traditional and Experimental Forms",
University of Waterloo, Kitchener; catalogue
1978 "Selected Drawings: The Figure"; McLaughlin Library, University of Guelph; catalogue
1978 Nancy Poole's Studio; Summer and Winter Exhibitions
GROUP INTERNATIONAL EXHIBITIONS
1991 The Cooley Gallery, Old Lyme, Connecticut, USA
1990 The Cooley Gallery
1989 "Artitudes", 7th International Art Competition, Art 54, New York, NY; prize award
1984 Hall du Centenaire, National Museum of Monaco, XVIII International Exhibition of Contemporary
Art of Monte Carlo; juried
1979 "A Canadian Start in Art", Canada House, London, England; Invitational; catalogue

Back to artists