Martin, Alain James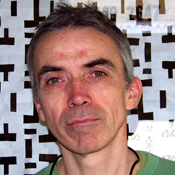 b. 1958
Born 1958 in Verdun Quebec. From 1987 to 1996 I exhibited and participated in the alternative project that was Galerie Pink. Situated in a storefront in the southwest of Montréal, the gallery was run by Patricia Pink and supported by a core group of artists.
Non-funded and self-reliant the gallery and its artists sought to create an engagement with art that was responsible to and directed towards their neighbourhood. Over this period I presented 8 solos and participated in 16 thematic group shows. Presentations outside Montreal include, Toronto, Chicago and NYC. From 1997 to 2005, I was an active member of the artist run centre articule where in 2003, I was co-curator, with writer Vincent Tinguely of the painting exhibition Régard à Gauche /Looking Left as well as previously collaborating in 2000, with artist Shelly Low in the site-specific event Hôpital. Since 2004 I've been exhibiting regularly at the reopened Pink espace. Next year, 2012 will mark 25 years with the galerie.
RECENT PRESENTATIONS
2008
Par ailleurs
AXENEO7, Gatineau Qc
A country as big as a house
Installation, Pink espace Mtl
2004
Stinky World
Pink espace, Mtl
PAST SOLO EXHIBITIONS
1997,95,94,92,93,90,89,88,87
Galerie Pink, Mtl
1994
Mendenhall Gallery, Pasadena, California
1990
Limner Gallery, 10th street, New York
1989
Total Gallery, Toronto, Ont.
SELECTED GROUP EXHIBITIONS
2001
HÔPITAL
l'événement thématique in situ, 18 artistes,
produit par centre d'artistes articule
Installation in collaboration with Shelly Low
Hôpital Bellechasse, Mtl
1995
La Biennale du Dessin, de l'estampe, et
du papier-matière du Québec
Centre National d'exposition, Jonquière, Qc
1993,1994
Chicago International Art Exposition
Navy Pier, Chicago
1992
Contemporary Irish/Canadian Art
Montreal World Trade Center
Center of Contemporary Art, St-Thomas, Ont
1991
Contemporary Southwest Galleries
Santa Fe, New Mexico
1990
Christie's Auction for the Homeless
Christie's, New York
1989
Auction for Act Up
Simon Watson Gallery, NYC
THEMATIC EXHIBITIONS
GALERIE PINK
1995-1987
Symposium III, 95 • Bowls, 94 • Resurrection, 93 • Couples, 93 • Noir et Blanc, 92
Human Error, 91 • Fire & Ice, 90 • Numbers, 90 • Cliché, 89 • Pissed-Off, 89
Symposium II, 89 • Le Lunch à la Khazoum, 88 • Condition Critical, 88 •
Symposium I, 87 Storefront Art, 87
PARTICIPATION
2011-1987
galerie Pink
alternative gallery, Mtl
2007-1999
active member, ARTICULE, centre d'artiste, Mtl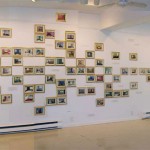 Back to artists