Taillefer, Heidi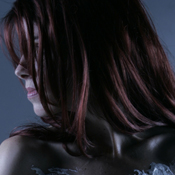 Heidi Taillefer was born in Montreal, Quebec, to a family rich in creative talent. She began drawing before the age of three and followed a decade of private art lessons until the age of 18, although she received no formal academic training in art. However, she pursued Humanistic studies at McGill University, which provided a foundation for much of the cultural and philosophical referencing in her art. She later worked as a commercial illustrator in parallel with her fine art production, her most notable contracts being with the Cirque du Soleil, Richard Mille luxury watches, and more recently Infiniti car company, for whom she painted an anniversary art car G37.
After numerous travels over the past twenty years, namely throughout the developing world, her perspective broadened and found itself increasingly reflected in her work. Taillefer's tastes range from the ridiculous and the absurd to the sacred and sublime, and finds its way into her art as she paints mostly about philosophical observations on life, which are parlayed into an exploration of technological development in the world.
Artist statement:
As an artist I have been influenced by a number of sources, from the natural world and quirky thrift shop objects, to oddities in general and all manner of artistic genres, surrealism to the abstract. I pursue the deeper meaning of things while possessed of a strong sense of humor. I paint mostly about philosophical observations on life which are drawn out of personal experience, and parlayed into an exploration of more universal issues, although my interests have generally encompassed ideological concerns about the environment and the impact of technology on society. My work is an original creative fusion of classical figurative painting, surrealism, contemporary realism, and mythology combined with popular figurative traditions ranging from Victorian romanticism to science fiction. It is consonant with some of the early 20th century surrealists such as Max Ernst and Giorgio DeChirico. I paint subjects comprised of seemingly incongruous objects characterized as symbolic, forming a complex composite of various elements and adds a contemporary spin to often classical icons.
SELECTED SOLO EXHIBITIONS
2010 - "Playing with Fire" Micheal Berger gallery; Pittsburgh, PA
2009 - "An Uncanny Lineup of Serendipitous Connections" Joshua Liner gallery; NY, NY
2008 - "Muses and Heroes" Irvine Contemporary; Washington, DC
2007 - "Objects in Mirror are closer than they appear" CONTACT photography festival;
Thompson Landry Gallery; Toronto, Ontario
2006 - " Looking For Love in All the Wrong Places" M Modern Gallery; Palm Springs, CA
"Objects in Mirror are closer than they appear" Leonardo DaVinci cultural centre;
St-Leonard, PQ
2005 - "Vicissitudes" Cirque du Soleil International Headquarters, Montreal, Quebec
2004 - "Pyrophoric" Gallery Yves Laroche, Montreal, Quebec
2003 - "Solipsism" O Patro Vys, Montreal, Quebec
1997 - "Inner Workings" McAllen International Museum of Art and Science; McAllen, TX
SELECTED GROUP EXHIBITIONS
2011- "Suggestivism" Grand central Cultural Center; Santa Ana, CA
"Dystopia" Copro Nason Gallery, Los Angeles, CA
"Sketchbook Project" Brooklyn Art Library, Bklyn, NY; Austin Museum of Art, Austin, TX;
SPACE gallery, Portland, ME; The Granite Room, Atlanta, GA; Hyllier Art Space, Washington, DC; Form/Space Atellier, Seattle, WA; Minna Gallery, San Francisco, CA; Hyde Park Art Center, Chicago, IL; Full Sail University, Winter park, FL
2010- "A Book About Death" The Tabernacle, MOMA Whales; Machynlleth, Whales
"Artificial Selection" 516 ARTS gallery; Albequerque, NM
"Metamorphosis" Copro Nason gallery; Los Angeles, CA
2009 - "East Meets West" Michael Berger Gallery; Pittsburgh, PA
"World's On Fire" Pacific Electric Lofts; Los Angeles, CA
"Clownie, Baby, Amputee" Antebellum gallery, Los Angeles, CA
2008 - "Aspect: Ratio 1" Irvine Contemporary gallery; Washington, DC
2008 - "SPLATTER" Antebellum Gallery; Hollywood, California
2008 - "Locked and Loaded" Joshua Liner gallery, New York, New York
2007 - "Literartistry" Coery Helford gallery; Los Angeles, California
2006 - "Everything but the Kitchen Synch" La Luz de Jesus Gallery; Los Angeles, CA
2007 - SILA Illustration West 44 Billy Shire gallery; Los Angeles, California
2005 - "Everything but the Kitchen Synch" La Luz de Jesus Gallery; Los Angeles, CA
2005 - Fantasia Film Festival Société des Arts et Technologie; Montreal, Quebec
2004 - "Everything but the Kitchen Synch" La Luz de Jesus Gallery; Los Angeles, CA
2000 - Selected work:collection of the Cirque du Soleil l'Anse au Ciel; Baie Saint-Paul,PQ
2004 - "Mother Home of the Dolly Bird" The Shooting Gallery; San Francisco, California
2003 - "Brave Destiny" Williamsburg Art and Historical Center; Brooklyn, New York
1997 - National Watercolor Society one-year travelling exhibition ; USA**
1996 - National Watercolor Society 76th Annual Exhibition
Muckenthaler Cultural Center; Fullerton, California
1995 - National Watercolor Society 1995 Signature Member Exhibition
Jocelyn Fine Arts Center; Torrance, California
1998 - "The Feminine Viewpoint" Jacob retail outlets national juried exhibition;
Montreal, Quebec (Jury: Pierre Théberge, director/Montreal Museum of Fine Arts)
2004- Limner Gallery New York, New York
**NATIONAL WATERCOLOR SOCIETY travelling exhibition itinerary
(part of the Archives of American Art, a division of the Smithsonian Institute)
1997 Travel Itinerary:
Wichita Falls Museum and Art Center; Wichita Falls, Texas
(Janelle Redlaczyk, Exhibits Curator)
- Utah Snow College; Ephraim, Utah
- Michelson Museum of Art; Marshall, Texas (Sharon Teel Bennett, Exhibition Chair)
- Indianapolis Art Center; Indianapolis, Indiana
- Eastern Shore Art Association, Inc; Fairhope, Alabama
- Bade Museum, Pacific School of Religion; Berkeley, California
- Sun Cities Art Museum; Sun City, Arizona (Karen Redding, Curator)
- St-Louis Artists Guild; St-Louis, Missouri

Back to artists