Everett, Jane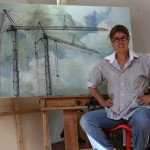 b.1958
Jane Everett grew up in Winnipeg and did her Fine Arts degree at Queen's University in Kingston, Ontario. Her practice has dealt with a variety of subject matter but latterly she has focused on waterscapes and large-scale drawings and paintings of construction sites.
She serves as Vice-Chair of The Public Art Committee in Kelowna BC and has lived there for the last twenty years. Her work is exhibited across the country in both private and public galleries, and can be viewed on her website, www.janeeverett.ca
Selected Exhibitions
Public Art, City of Kelowna, Leon Avenue Street Art Project, 2011  (metal street banner, 54"x24") permanent installation.
Group Exhibiton, "Constructions of Identity" Kelowna Art gallery, September 9 to December 12, 2010
" Boreal", Agnes Bugera Gallery, Edmonton, September 25 to October 16, 2010
Group Exhibition  Drawing Aspects (Vancouver Drawn Festival 2010) Granville Fine Art, July 17 – August 7, 2010
Group Exhibition, "Kelowna Collects", Kelowna Art Gallery, Kelowna, January 16 to March 7, 2010
"Under the Bridge", Kelowna Art Gallery Airport Satellite, Nov. 30 – May 17, 2010
"Watermark", Vernon Art Gallery, Vernon, BC, Oct 1 – Nov 20. 2009
"Alte Musik", Bilton Centre for Contemporary Art, Red Deer, Feb 13 – March 21, 2009
"Acqua Alta", Agnes Bugera Gallery, Edmonton, September 13 to October 3, 2008
"Waterscapes", Atelier Gallery, Vancouver, December 1 to 22, 2007
 "Equus caballus", The Kelowna Museum, February 22 to June 16, 2007
 "C for Water", The Art Ark, Kelowna, October 14, 2006
"Six Furlongs", The Art Ark, Kelowna, May 19 to June 22, 2005
  "Wassermusik'' Herringer Kiss Gallery, Calgary, November 12 to December 23, 2004
Group Exhibition, Drawings, The Art Ark, Kelowna, October 14th to November 22, 2004
Group Exhibition, "Landscape & Memory, Six Okanagan Artists", Gallery of the South Okanagan, Penticton, July 9 to September 2nd, 2004
Group Exhibition, "Landscape & Memory; Six Okanagan Artists", The Triangle Gallery, Calgary, Alberta, July 18 to August 30, 2003
"Waterborne", The Ark Gallery, Kelowna, B.C., April 17 to May 15, 2003
"Flowing North", The Ark Gallery, Kelowna, B.C., March 26 to April 30, 2002
Group Exhibition, "The Land", The Ark Gallery, Kelowna, B.C., February 19 to March 30, 2001
"Faces in the Hall", Kelowna Art Gallery, Kelowna, B.C., January 10 to February 15, 1998
Group Exhibition, "Seven Figure Painters", Richmond Art Gallery, Richmond, B.C., August 7 to September 8, 1997
"Still Lives", Myxdmedia, Calgary, Alberta, November1 2o 30, 1994
"We Say it is a Pipe and It's Our Show", Kelowna Art GalleryJune 26 to August 3, 1993
"Aquariums", Okanagan Artists Alternative Gallery. Kelowna, B.C., November 27 to December 19, 1992
Solo Exhibition, St. Francis Xavier University Art Gallery, Antigonish, Nova Scotia, April 14 to May 3, 1992

Back to artists