Medvedovsky, Vitaly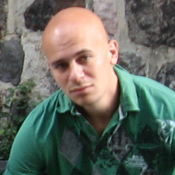 Vitaly was born in Kharkov, Ukraine, and immigrated to Canada in 1998. He received an Honors BFA (Drawing and Painting) from the Ontario College of Art and Design in Toronto, and an MFA (Painting) degree from Concordia University, Montreal.
Vitaly has participated in a number of solo and group exhibitions in Montreal, Toronto, Vancouver, Calgary, Philadelphia and Los Angeles, and has been the recipient of numerous awards, including the Plaskett Award and the Elizabeth Greenshields Foundation Grant. He currently lives and works in Berlin, Germany.
SOLO EXHIBITIONS
Feb. 2011: "Tales from the Outskirts", Winsor Gallery, Vancouver.
Dec. 2009: "Lock, Stock and Two Smoking Trolls", Galerie Push, Montreal.
Mar. 2006: Levine Gallery, Los Angeles, USA.
GROUP EXHIBITIONS
Dec. 2010: "Objets Secrets de l'Ateliers", Maison de la Culture Ahuntsic, Montreal.
Nov. 2010: "Ausserdem", Rooftops Studios, Berlin, Germany.
May 2010: "Objets Secrets de l'Ateliers", Maison de la Culture Cote-des-Neiges, Montreal.
Aug. 2009: Winsor Gallery, Vancouver.
Jun. 2009: "7 by 7", Stride Gallery, Calgary.
Mar. 2009: "Time Off", Art Mur Gallery, Montreal.
Feb. 2009: "Landscapes", FOFA Gallery, Montreal.
Sep. 2008: "Tout Ce Que Vous Avez Toujours Voulu", Galerie Push, Montreal.
Jul. 2008: "Peinture Fraiche", Art Mur Gallery, Montreal.
Apr. 2008: "STRATA", Concordia MFA Show, Montreal.
Apr. 2007: "Timeraiser" (Juried Art Auction), Toronto.
Aug. 2006: Ashley Gallery, Philadelphia, USA.
Sep. 2005: "Collective Metropolis", Toronto.
Jul. 2005: Toronto Outdoor Art Exhibition.
Jan. 2005: Steam Whistle Brewery, Toronto.
Jul. 2004: Toronto Outdoor Art Exhibition.
May 2004: Engine Gallery (Go West), Toronto.
May 2004: Graduate show, OCAD, Toronto

Back to artists