Rose, Bill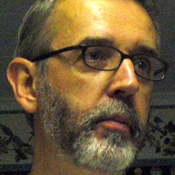 b. 1952
Born in 1952 in Newfoundland, he is among the first generation of Newfoundlanders who are also Canadian.Born in Freshwater, near Placentia his mother came from Argentia; a community transformed a decade earlier by the creation of the American air force base, Fort McAndrew.Rose's art orbits the intersecting gravities of these three cultures (Newfoundland, Canadian and American), none of which id spared by his critical eye.
Bill Rose studied Art and Art Education at Memorial University of Newfoundland, The University of Ottawa and the Ottawa School of Art, Ontario, Canada. With solo and group shows in Canada, the U.S. and Germany, Bills work can be found in public and private collections in Canada, the U.S., Australia, Switzerland, Holland and Poland.
"My grid-based work is an amalgam of Pop Art, Photorealism, humour and social commentary. I am particularly interested in the work of Warhol, Freud, Morley and Chuck Close. I have been known to paint on different materials...coins, pop cans, books and pain tablets."
For the past 25 years I have obsessively adhered to a system of grids to form the basis of my painting and drawing technique. In my work I strive to make commentaries on a broad spectrum of socio-political topics, including environmentalism, patriotism, big business and the art world itself. This is often done by employing unusual materials, by juxtaposition of seemingly disparate images or by overlaying traditionally painted images
with text."
SELECTED SOLO EXHIBITIONS
2009 AND IN THE END, Christina Parker Gallery, St. John's, NL
2007 UH OH CANADA, Christina Parker Gallery, St. John's, NL
2006 THE SECRET GARDEN, Christina Parker Gallery, St. John's. NL
2005 WHEN GOD DRINKS, Christina Parker Gallery, St. John's, NL
2005 HEROES, VILLAINS AND THE HEARTBEAT OF AMERICA,
The LeytonGallery of Fine Art, St. John's, NL
2004 GRIDLOCK: ABBEY ROAD, RCA Gallery, St. John's, NL
2002-2003 IN ABSURDUM-PAINTINGS, Art Gallery of Newfoundland and Labrador,
St. John's, NL, circulated to Sir Wilfred Grenfell College Art Gallery, Corner Brook,NL
and Beaverbrook Art Gallery, Fredericton, NB
2000 SCRATCH YOUR HEAD, I-Land Gallery, Toronto, ON
2000 COME AND GET IT BABY, YOU KNOW YOU WANT IT,
James Baird Gallery, St. John's, NL
1997 DOCUMENTING THE FOOL, (Self-portraits) James Baird Gallery, St. John's, NL
1996 SELECTED PAINTINGS, Michael Gibson Gallery, London, ON
1995 HALF A MILLION DOTS, James Baird Gallery, St. John's, NL
1993 CONFESSIONS OF A PART-TIME EXHIBITIONIST, James Baird Gallery, St. John's, NL
1991 AND SO IT GOES, Ikons, St. John's, NL
1989 SERIOUS STUFF, Emma Butler Gallery, St. John's, NL
1987 YOU SHOULDN'T DO THAT TO PHOTOGRAPHS, Memorial
University Art Gallery, St. John's, NL
1985 DRAWING, Eastern Edge Gallery, St. John's, NL
SELECTED GROUP EXHIBITIONS
2010 OUT OF PURGATORY, Confederation Centre Art Gallery, Charlottetown, PEI
2010 SMEAR TACTICS, a1c Gallery, St. John's, NF
2010 CONSUMERISM- I SHOP THEREFORE I AM, online exhibit curated by Milena
Placentile for CODE 2010 – Cultural Olympiad Digital Edition and Canada Council for the Arts,
Vancouver, BC
2009 REPUBLIC, The Rooms Provincial Art Gallery, St. John's, NL
2008 THE HUMAN FIGURE, Ingrid Mueller Art + Concepts, Fredericton, NB
2007 SITE/SPECIFIC/SIGHT, Beaverbrook Art Gallery, Fredericton, NB
2007 MARION McCAIN 2007 ARTISTS, Ingrid Mueller Art + Concepts,
Fredericton, NB
2006 TRANSIT-ATLANTIC CROSSINGS, Galerie Schloss Mochental, Ehingen, Germany.
2005 STAGES, The Rooms Provincial Art Gallery, St. John's, NL
2005 TRANSIT-ATLANTIC CROSSINGS, Deutsche Werkstatten Hellerau, Dresden, Germany.
2003 TIDELINE, City Hall Art Gallery, Ottawa, ON
2003 THIS IS ATLANTIC ART, Beaverbrook Art Gallery, Fredericton, NB
2000 FROM THE EASTERN EDGE, I-Land Art Gallery, Toronto, ON
2000 ARTISTS IN A FLOATING WORLD, Beaverbrook Art Gallery, Fredericton
1998-1999 THEATRUM MUNDI, Beaverbrook Art Gallery, Fredericton, NB; Dalhousie Art Gallery,
Halifax; Art Gallery of Newfoundland and Labrador, St. John's, NL,
MacKensie Gallery, Regina, SK
1998 DRAWINGS, The Michael Gibson Gallery, London, ON
1994-1996 ANECDOTES AND ENIGMAS, Beaverbrook Art Gallery, Fredericton, NB;
Art Gallery of Nova Scotia, Halifax, NS; Hart House, University of Toronto, Toronto, ON
1993 LIFE AND TIMES IN THE MARITIMES, Eye Level Gallery, Halifax, NS
1991 EVERGREEN, Canadian Museum of Nature, Ottawa, ON; Canadian Embassy,
Washington, DC, USA
1986 NATIONAL DRAWING COMPETITION, Kelowna Art Gallery, Kelowna, BC

Back to artists